Full Service Yard Displays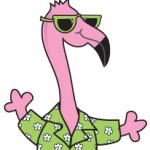 HAVE US DO ALL THE WORK AND YOU & YOUR HONOREE HAVE ALL THE FUN!!!!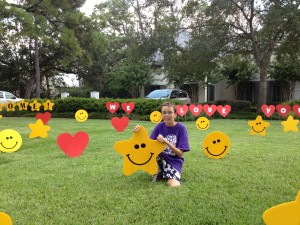 We deliver and set up the display of your choice during daylight hours, all times pre-arranged with you, our client. We can work these times around your honoree's work schedule, or during a birthday or special occasion luncheon in most cases. All you will need to do is give us the pertinent contact information and pay us–we do the rest! Then you can wait for a big chuckle when the surprise hits!
We do not offer any deliveries during the night or early in the morning due to safety issues. However, it is more fun for your honoree to come home from work or school to a yard full of surprises! Imagine their shock as they drive closer to their home and see what is waiting for them in their yard!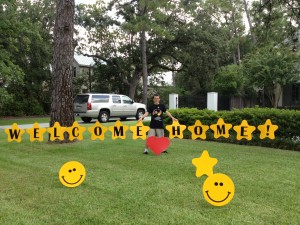 Rental Rates: See the Rental Rates page for rates.

Delivery Times: We attempt to do all of our deliveries while kids are in school. Therefore, that typically leaves the time window of 9:30 a.m. – 3:00 p.m. We will work with you to the best of our ability to make a delivery at your desired time.
Recommendation: If the honoree will not be at work/school during the desired delivery period, arrange for someone to take them out for a birthday breakfast, birthday luncheon, coffee, pedicure, or any other activity. The most fun is to be WITH the honoree as they arrive home, and they know there was no surprise when they left only a short while ago. It is the BEST!!!
Gated Communities & Restricted Areas
If the delivery address is in a gated community or restricted area, you are responsible for gaining permission for our service. We are not responsible for obtaining authorization. Therefore, if you know we are required to enter a gated community, please provide the appropriate gate code or instructions on how to gain access. If we attempt to deliver your display and cannot enter due to these reasons, you are not issued a refund. Please plan ahead so we can make it fun for everyone!
Hard Ground & Dog Poop
We are really having a hard time setting up our displays lately. Please water the yard before we arrive! If you do not live at the home, please tell someone else in the home to water.
Also, we are having a difficult time with excessive amounts of dog poop. It's unpleasant to talk about, but imagine having to place your hands all over the yard with dog poop, and to have to walk in it. It's even more unpleasant to have it so up close and personal! Please clean up your yard before we arrive. If you have lawn service, please DO NOT have them mow over dog poop. All this does is spread the dog poop all over the yard in smaller pieces. If you are not comfortable working with us, we would recommend you using our Do It Yourself package, and you can handle the details of your set up, the hard ground, and the dog poop.
Yard/Lawn Services: Weed-eaters & lawn mowers will chew up & destroy our signs. Lawn crews are not equipped to cut lawns with signs in the yard. Please, please arrange for lawn service to come the day BEFORE we deliver. Your  yard display will be safe & look amazing. You are responsible for the damages. If you do not live at the residence, please coordinate with someone in the home.
Fill out a Reservation Request Form and include any special details in the Special Comments area. We will be able to give you a specific rental quote based on your needs.
If we do not service the area, or if you would like to use your own time and gas to set up, you are welcome to rent a Do It Yourself package or possibly our Meet-Up option.