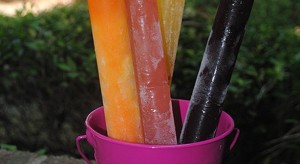 In case this is bringing back childhood memories, it should…sort of. Remember Flav-Or-Ice-the cheap packets of flavored water packs you put in the freezer, and a few hours later you have a frozen popsicle?!! Well, fast forward to being an adult now. Make yours more grown-up with some wine & fruit blended together & throw them in the freezer for when you're ready for a popsicle! 🙂
The Coconut Blue Hawaiian-Oh My!!!!!!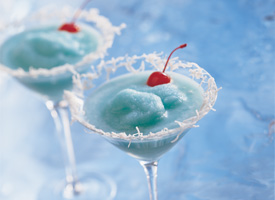 I think this sounds divine & certainly has a phenomenal presentation! 🙂
Ingredients
1  cup pineapple juice

1/2  cup (4 ounces) light rum, if desired

1/2  cup (4 ounces) blue curaçao

1/2  cup (4 ounces) cream of coconut (not coconut milk)

10  to 12 ice cubes

Fresh cherries or maraschino cherries with stems, if desired
Directions
Chill martini glasses in freezer several hours before serving.

Place all ingredients except cherries in blender. Cover and blend on high speed about 45 seconds or until smooth.

Pour pineapple mixture into glasses. Garnish with cherry.