The Buzzards Are Flying Around Again!
Sweet Kim in Cinco Ranch (Katy) just turned 50! Imagine her surprise when she came home & found 50 buzzards in her yard!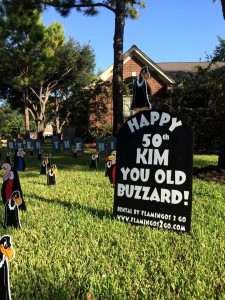 The big 3 ft. Black Tombstone proudly wishes her a special happy birthday!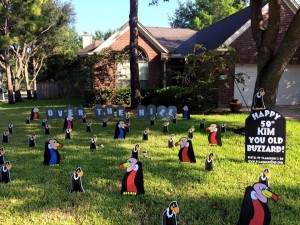 Kim was also lucky enough to have the "Over The Hill" tombstones adorning her yard. I am sure she was thrilled beyond belief! We hope she was, at least….!!!
It's such a fun way to celebrate a 50th birthday – or any milestone birthday! Who do you think selects buzzards the most? Husbands for their wives? Wives for their husbands? Siblings? It is amazing to see the fun families have doing this! Where do you think they will land next???
Cheers to Kim for her 50th Birthday!
-Chris Ann, Kristin & Meggan