Double Sweet 16 Birthdays!
Moms really do rock! Kids don't always appreciate it, but I can promise you when a young lady sees her decorated yard on her Sweet 16, she is sooooo grateful & full of love that her mom thought to do something SO sweet & different! Here are two yard from moms with daughters born on the same day!
Victory Lakes in League City had a big, split yard that definitely needed the Ultimate Package that mom ordered! Great job, Mom!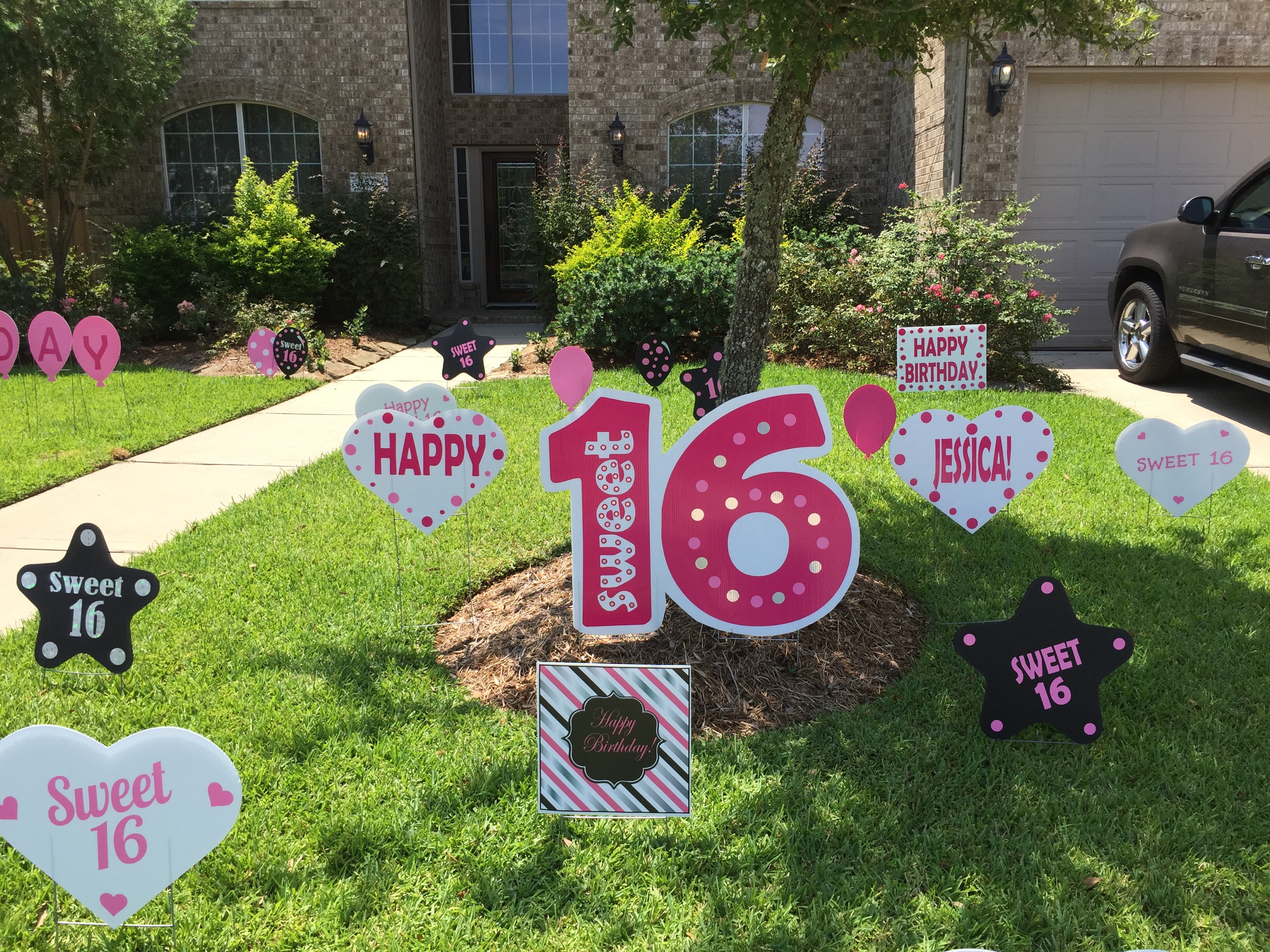 Since this mom wanted the Ultimate Package, she received the really cool big Sweet 16 set, really cute sweet 16 hearts, birthday signs & our "bling" sweet 16 stars & balloons. It also included our adorable "Happy Birthday" pink balloon lawn letters. It really makes a statement when you drive up!
On the west side of League City-in Magnolia Creek, we managed to decorate the yard for Shelby just before she came home from a birthday breakfast! She had our standard Sweet 16 package with the cute upgraded glitter 16 signs. The cupcakes & sweet 16 hearts with a few black "bling" stars & her personalized sign, made it a really special day! Her mom gets major kudos for making this happen!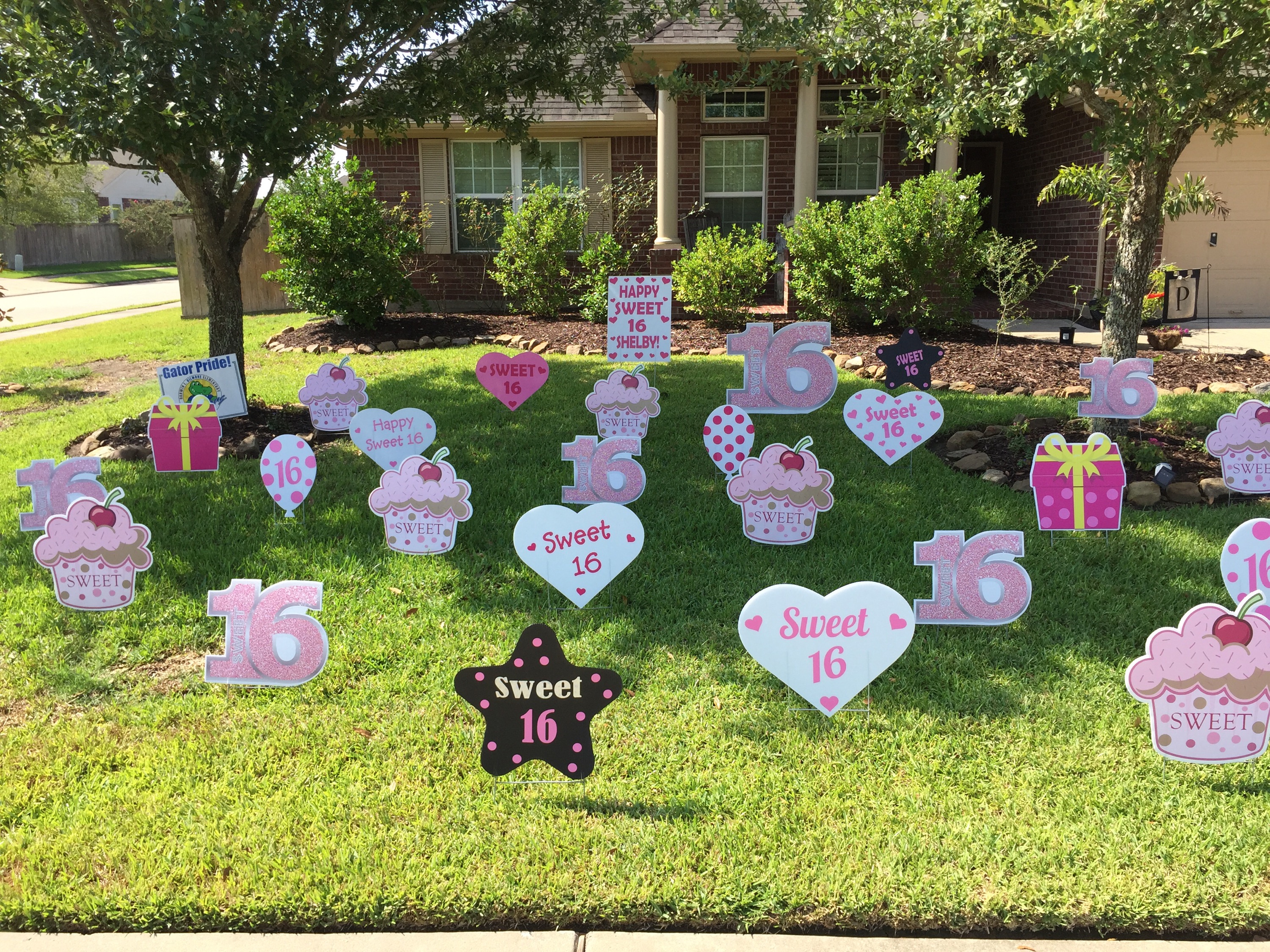 A really great looking & sweet way to honor the birthday girl!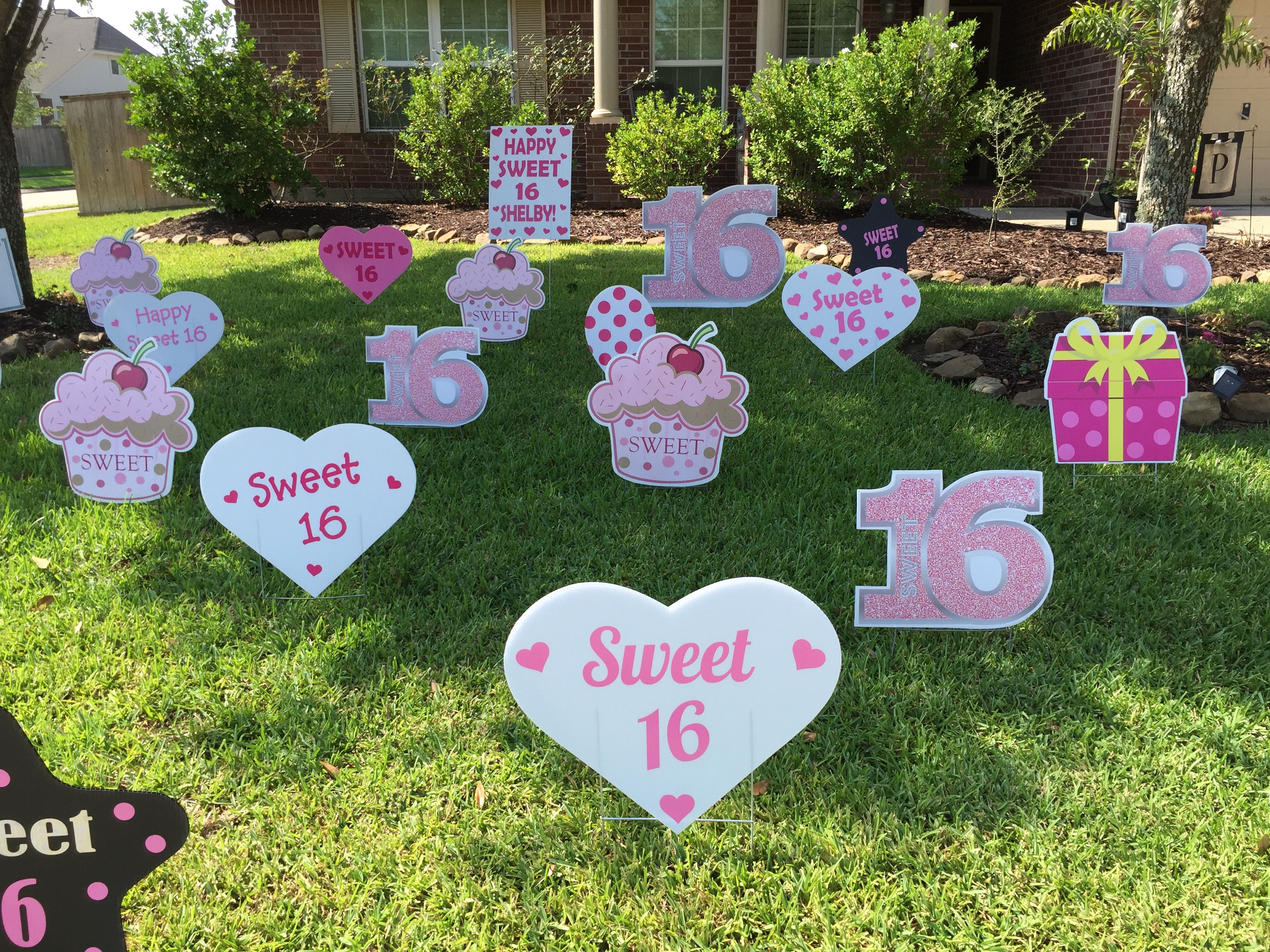 The sweet 16 hearts are mixed with the cute pink glitter 16 signs & cupcakes.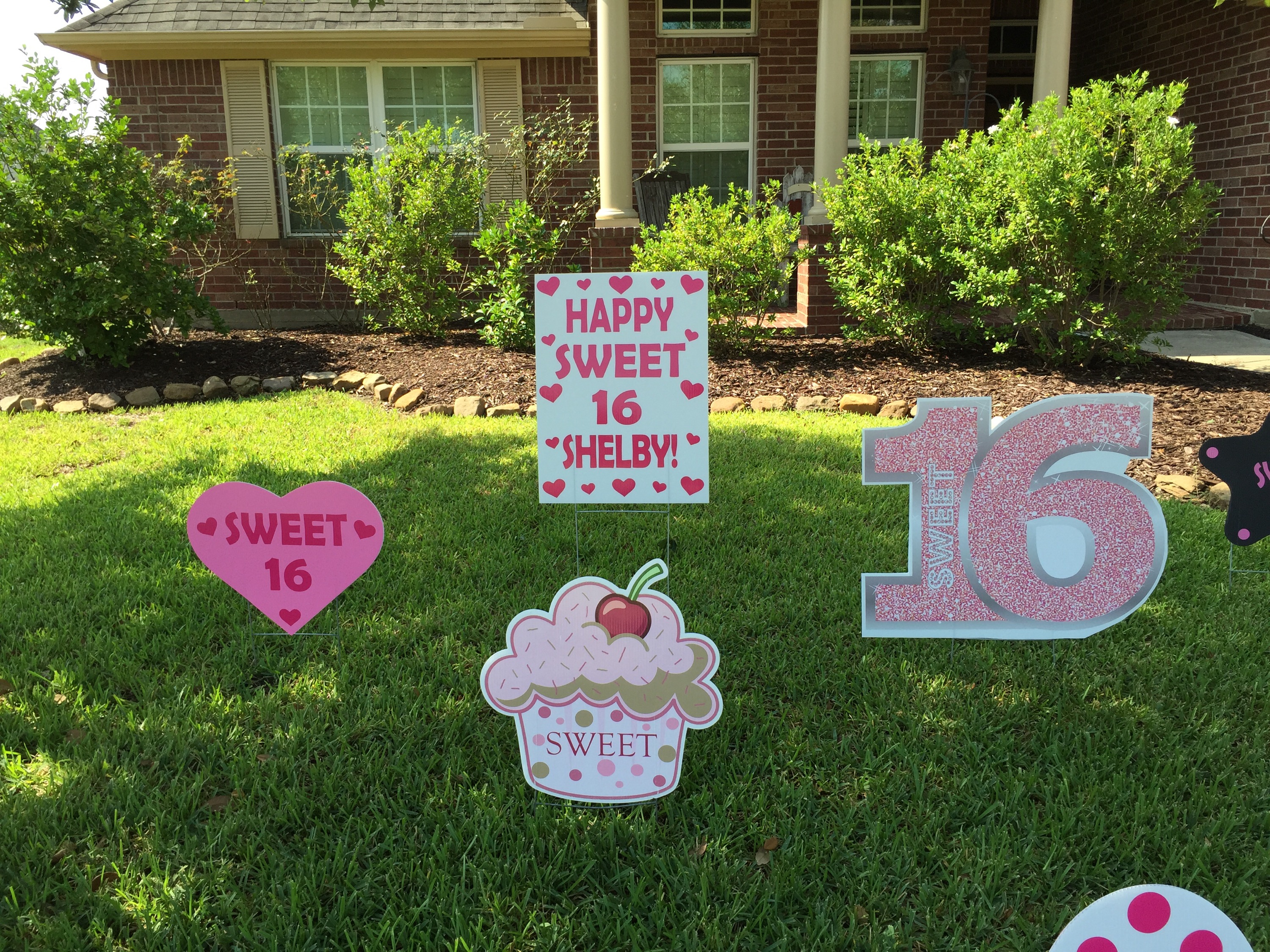 Personalized sign for Shelby! You can also see a close up of our 2 ft. pink glitter #16 sign!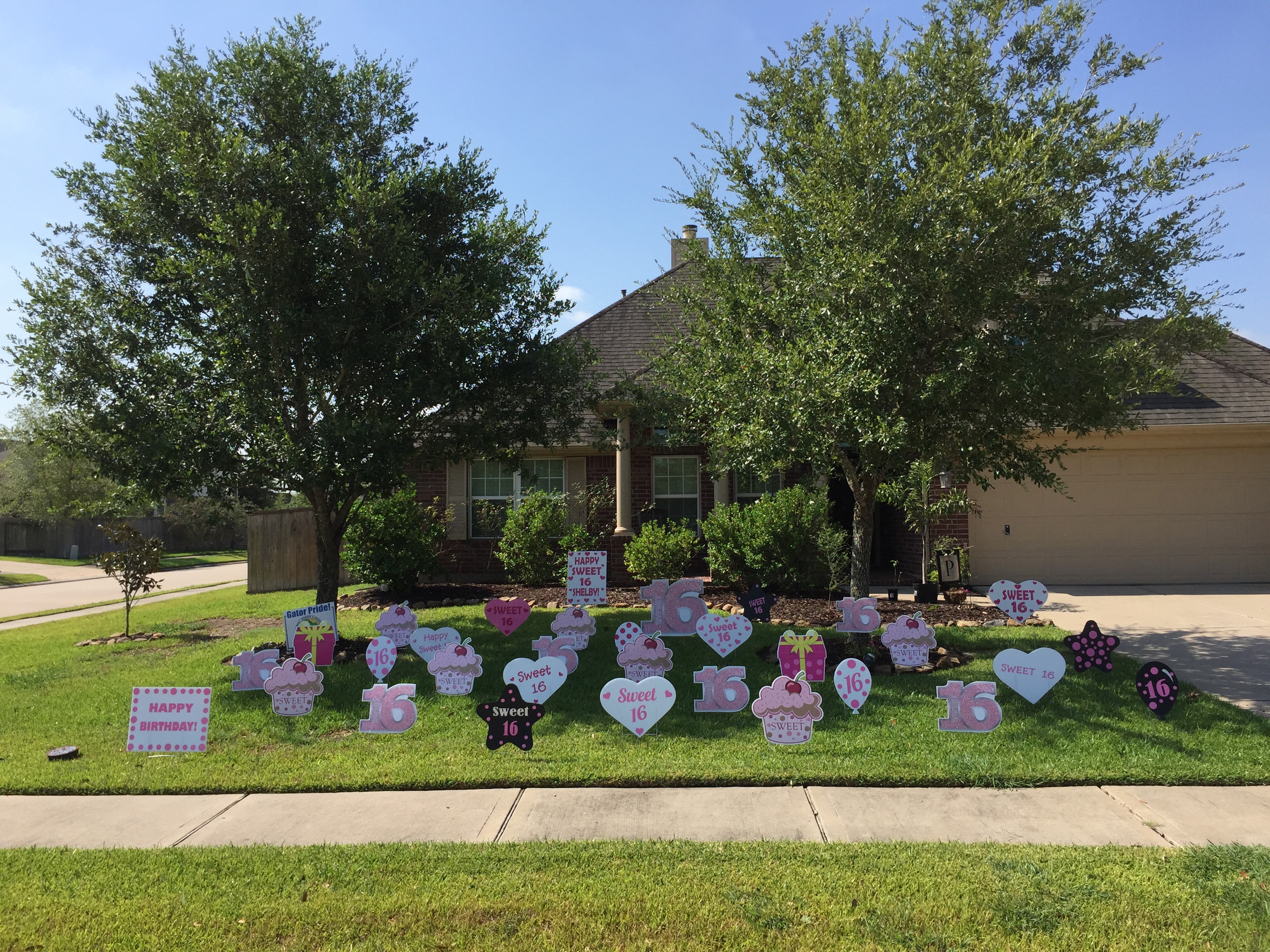 This is the whole flocked yard! She is on a corner, so you can imagine how many people passed by & smiled! We had several people stop to take pictures just while we were setting up!
Would you believe the sweet 16 theme is our most popular renter?!! It never gets old setting it up, either! It's probably my favorite theme. I have boys, so it is always fun for me to get to play with pink, pink, pink!
We can't wait to help celebrate more Sweet 16 birthdays! Don't forget the boys, though (and also great for the non-girly girl). Our blue & lime green 16th birthday theme is really awesome, too!
Flamingos 2 Go is also 16, so Cheers to 16!
-Chris Ann, Kristin & Meggan