Meet Fancy Flamingo. She is our new model for our Fancy Christmas Card. Do you like her? I hope so. In fact, if you like her A LOT, you're in luck. We are offering this card as a FREE PRINTABLE for a limited time.
FREE PRINTABLE – FANCY FLAMINGO CHRISTMAS CARD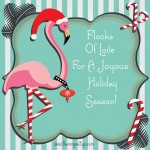 You can make Fancy feel even more special. After you print her out, you can add rhinestones, a white Santa hat pom pom, glitter, and lots of other embellishments. If you happen to do any "blinging" please take a picture and send it to me. I would love to show her off!!!
I love her candy cane striped legs!! She is a classy flamingo, that's for sure!
If you would like a custom message on the card, let us know, and you can place an order for a small fee. We want Fancy to get to fly in and make lots of people smile. 🙂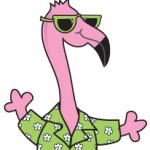 Cheers!!