Gold Daisy Awards
Thank you, thank you to all of our WONDERFUL supporters! Flamingos 2 Go is the proud winner of the Gold Daisy Award for Best Party Rental!!! Woo Hoo!! We owe it all to every one of you who took the time to vote for us.
You can see the entire list by clicking Gold Daisy Award Winners. Flamingos 2 Go is listed about 10th down under the Party Rentals category. There are many wonderful businesses on the list, whether they won their coveted award or were a finalist. Please take the time to think of them when interested in a particular service. We also thank Macaroni Kid-League City for allowing Flamingos 2 Go to participate! We've been supporters for a long time!!
I honestly don't think any other small business is as lucky as we are to have the most incredible clients & supporters! Again, THANK YOU!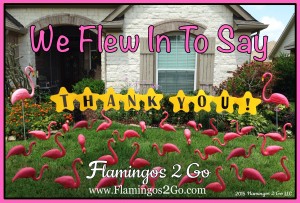 Cheers!
~Chris Ann, Kristin, Meggan, Kristi, Regina
Spreading smiles with our great yard decor & yard greetings throughout Houston-League City, Clear Lake, Friendswood, Seabrook, Cypress, Tomball, Katy, Memorial & surrounding neighborhoods! #flamingos2go