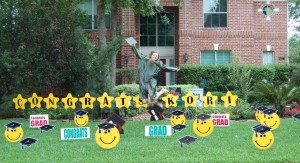 It's officially graduation planning season! Colleges start graduating in a month, with high schools following soon after. It's time to plan!
Newest Theme: "Smart Cookie"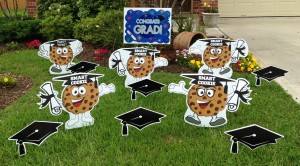 Fun, chocolate chip cookie guys celebrate graduation for college, high school, kindergarten or any graduation! Especially great for the honor student! The Smart Cookies are combined with graduation caps and grad signs. Specific colors may be available.
Another "Hoot" of a Theme: Graduation Owls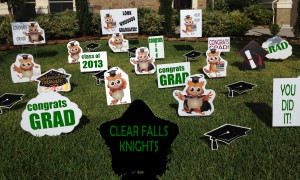 The Graduation Owls make quite the "Hoot" for the graduate! This photo shows the Grad Owls mixed in with green graduation signs, but other color graduation signs are available. This is super awesome for the Rice Owls Graduates.
Most Popular Theme: Graduation Smileys with
"Congrats" Star Set
(Super Deluxe Package)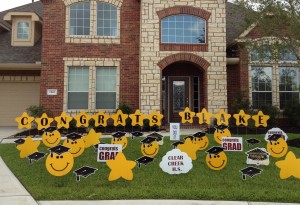 Year after year, this is by far our most rented graduation yard display. The bright & cheery Graduation Smileys are combined with the "Congrats" yellow star set, along with black graduation caps, stars & a few school color grad signs or general colors. This one shown is for Clear Creek HS, although it can also be used for Texas A&M, Pearland HS and any other maroon school. "Super Deluxe" Package includes everything listed + the grad's first name on the star set-as shown in photo.
Theme: 5th Grade Graduation Yard Display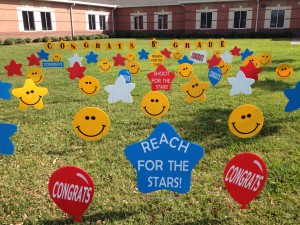 Graduating from elementary school to middle school/junior high is a big deal! This bright display includes the "Congrats 5th Grade" Yellow Star Lawn Letter Set, smiley faces & assorted colored stars. This school's colors are red, white & blue. It really pops!
 Girlie Theme: Princess Grad Yard Display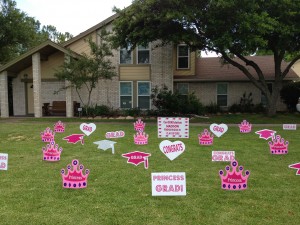 The ultimate in all things girly! The "Princess Grad" theme includes princess crowns, pink graduation caps, pink graduation signs & hearts. Also shown-large custom, sign in pink. Available for extra charge.
College graduations begin May 9, Mother's Day weekend. I have a few school themes available: UT, Texas A&M, OSU, OU, LSU.
Some high schools begin graduating May 23, Memorial Weekend, including private schools such as Kinkaid, Lutheran South Academy, Bay Area Christian, Episcopal HS.
My local schools are Clear Creek ISD, Friendswood ISD, Pasadena ISD, Pearland ISD, etc. All of these schools graduate the same weekend time frame from June 5-8. I have some reservations that were made all the way back from LAST graduation for this weekend. Right now, Sat. June 7 only has about 5 rental slots available.
If you are thinking about surprising a special senior, be sure to send me a request ASAP. I want my awesome clients to get first pick. There are always desperate, last minute calls, and I have always done my best to make them happen. This year, I have to limit the total number of orders per day, as there is only a certain amount of inventory & time in the day.
Here's my graduation flyer if you would like to print it out for yourself, or share it with friends. 🙂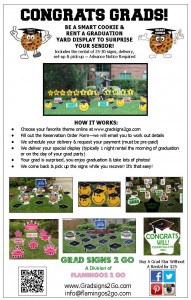 Be sure to keep up on Facebook. I post news & updates there much more frequently. May & the beginning of June are always crazy, and I don't usually have time to even look up.
I hope you enjoyed seeing the fun graduation yard displays! Which one is your favorite?????!!!
Cheers!
-Chris Ann