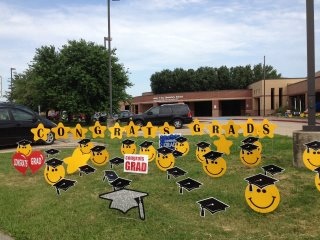 May launched straight into Graduation season for us. This fun grad display was set up for the returning senior alumni at Bay Elementary in Seabrook. Thanks to Kristi Fowler for letting help just a little with the festivities!!
Next week is both Teacher Appreciation Week and Nurse's Day. It's an important time to show love to those special people who take care of our kids & us. I know I just love my fifth grade teachers & nurse!! They rock!!!
Also, we have Mother's Day just around the corner on Sunday, May 13.
To kick off the month, let's start with a little fun. Do you live in the League City/Seabrook/Clear Lake are? Do you know a friend or family member that our Beers & Cheers display would be good for and has a birthday this week? If so, leave a comment on this post or post on our Facebook page (www.facebook.com/flamingos2go) with your name, your friend's name, neighborhood they live in & when their birthday is. We might pick your birthday pal as the lucky recipient of a free beer mugging (that's a free beer display rental)!!! Toast the guest of honor in a unique way!!!!!
Check back tomorrow for another fun surprise!!!!!
Cheers!!!
Chris Ann