1.9.13
I am in love with our brand new baby shower party kit! I just wish I would have had it with my boys and for the showers I've been involved with. It is amazing how just a little creativity makes some ordinary things so special!
Here is the Baby Shower Party Kit for a baby girl:
All of these little things together make a shower look like you spent forever & a ton of money! Imagine how perfet this would Lso be for an office or teacher baby shower!!
The kit includes the following:
1 Pennant Banner – 6 ft. long for decorating or marking off event boundary.
24 Invitations with matching envelopes. Blank, can easily be printed on a laser printer (not inkjet) or taken to your local printer. 5″ x 7.25″
24 Address Labels – For labeling your invitations. Blank, can be handwritten on OR you may use clear labels (not included).
24 Favor Tags – Use to attach to your own cake pops, lollipops, or favors. Ribbons not included. Size: 2″ x 2″.
3 Party Icons – Decorative die-cut shapes that match the theme. To use just stick them in a vase, cake, cupcake, cup, anything! Approx 10″ tall.
24 Water Bottle Labels – The perfect decorative label for your bottled water.
3 Signs – One is pre-printed with "Welcome." The other two signs are blank and can be hand written on OR use clear labels (not included).
24 Mini Decor Stickers – Miniature 1.25″ stickers you can use to decorate your own favors, gifts, etc.
12 Menu Cards – A cute way to display the tasty treats your are serving. Blank and pre-scored, can be hand written on or you may use clear labels (not included). Size: 2″ x 4″
24 Cupcake Wrappers scalloped edge patterned wrappers. A cute way to jazz up even the simplest cupcake.
24 Cupcake Toppers – scalloped edge toppers in various patterns and designs. Just pop into your cupcake, voila! Size: 1.5″ diameter x 4″ tall.
* The kit itself is not personalized.  However, if you want to add even  more WOW, you can order some adorable personalizes items also.
Look at how much cuter these simple water bottles look! You could put these around soda bottles & even beer bottles!!
Just add your own delicious treats & you are ready to celebrate! You can even add on personalized 2″ round stickers like this for an additional fee: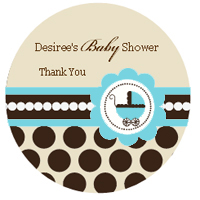 This Mod Baby Shower Party Kit also comes in a hip green, so we've got you covered whether you know the gender or not. I would have chosen the green for my own showers!! It is so elegant and beautiful.
We are even able to ship any color Mod Baby Shower Party Kit anywhere in the Continental U.S!!
The Mod Baby Shower Party Kit will normally be $59.99  shipping, but I am having an Introductory Sale for $49.99 + shipping!!
Please note that the props and treats are not included. They are to show you some great possibilities!
I have more new celebration party kits & some awesome party favors coming soon! I think you're going to love them!!!
Cheers,
Chris Ann