Mother's Day is Sunday, May 12, 2013!
What are you doing for the special ladies in your life? There's so many great, traditional gifts out there. Beautiful jewelry, gorgeous bouquets of flowers, special photos & other keepsakes. But it's time to think outside the box & do something she will remember year after year! The ladies who have had our Mother's Day Yard Bouquets tell us how it really touched their heart that their loved one went to so much effort to do something so memorable, AND that it is one of their most treasured gifts.
MOTHER'S DAY YARD BOUQUETS!
Honor your mom, wife, grandmother, aunt or any other special lady in your life with the most memorable gift ever!
WE LOVE YOU!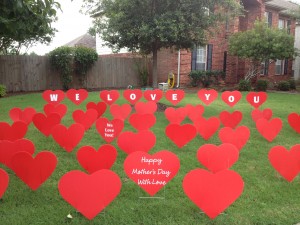 Our "We Love You" red hearts make the perfect statement. Add in lots of other red hearts & you will have your special lady grinning ear to ear.
FLAMINGO FLOCKING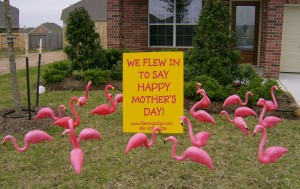 The classic pink flamingos will always make your mom laugh. Choose a message like "We Flew In To Say We Love You Mom!" or "Flocks of Love to Mimi on Mother's Day!" Add in some red hearts if you would like some extra love.
SMILE

!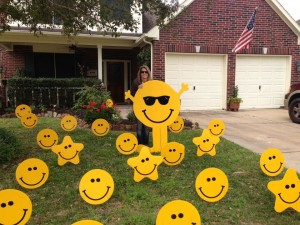 Mom will really SMILE ear-to-ear when she sees a yard full of adorable smiley faces! Sign message could read "Mom You Make Us Smile!" or "We wanted to make you smile, Mom!" or another suggestion.
In this photo, you'll also see Smiley Stan hanging out with the sweet honoree.

PRINCESS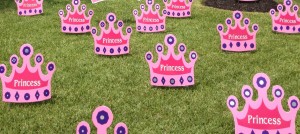 Give your mom the ROYAL treatment and surprise her with a yard full of Princess Crowns! We will mix in pink & purple balloon signs to give it an extra special effect.
FLOWER BOUQUET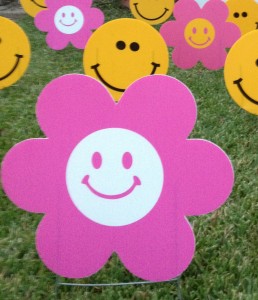 Most ladies enjoy beautiful flowers, so send her a yard full of smiling flowers! Our sweet blossoms will be sure to make her feel very special. We can mix either yellow smileys, pink, yellow & purple balloon signs to make it a great combo.
Fill out your Reservation Request now to inquire about making Mother's Day extra special.
I will be delivering these special Yard Bouquets on Saturday, May 11 to make sure your special lady gets to enjoy her sweet gift for a little longer! Often times, people order a keepsake heart to go with the yard. Just let me know if you would like to add one on. If you mention this post in your Reservation, I will throw one in for FREE. 🙂
Cheers!
Chris Ann