I am so excited about graduation!! I've spent countless hours looking for really amazing products that I think would be fantastic for graduation.
Check out the new Graduation Goodies page and see if there's something you would like to order for the grad in your life.
Some of the goodies include these ADORABLE Grad Smiley Lollipops!! I just think they are THE CUTEST little guys!!!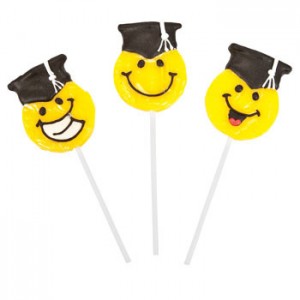 My kids are always a good judge on what will be popular. They really like the Grad Smileys, but they LOVE these precious Graduation Owls.
Which ones are YOUR favorite?!!! I will be ordering some and will give each grad client a goodie bag with one of these cute little guys in it.
Is anyone else excited about graduation and the end of school?!!!! I know I am, and my kids are, too!!! Only 2 months to go…let the festivities begin!!
Cheers!
-Chris Ann