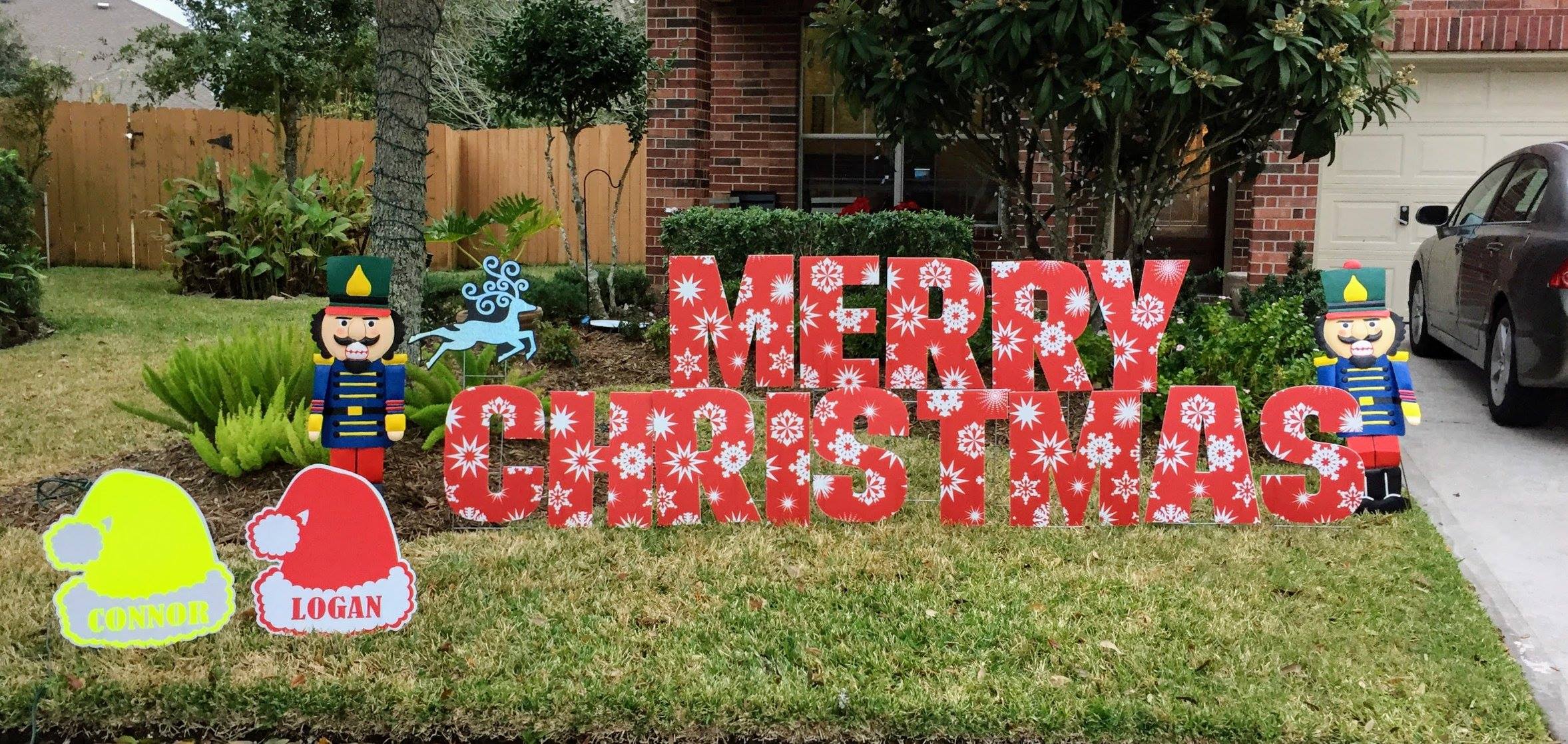 Christmas

Décor

&
Gifts

That Everyone Will Love!

Adorable, Outdoor, Weatherproof Personalized Christmas Decor
CUSTOM HOLIDAY LAWN LETTER PHRASES
Our adorable Holiday Yard Lawn Letter Phrases will give your lawn or business a major WOW effect! Fun chevron in red, lime green & white. Most phrases are 18″ high & come with individual stakes. They store nice & flat so they don't take up a lot of space!
Other Captions Available On A Limited Basis (not in stock):
~ Santa Stop Here ~ Happy Holidays ~ We Believe ~ Custom Phrases
Multiple Patterns Available
~ Christmas Chevron ~ Solid Red ~ Red with White Snowflakes ~ ~ Red/White Polka Dots ~ Merry CHRISTmas
Sale Price: $150 (Regular Price: $175)
RED WITH SNOWFLAKES SET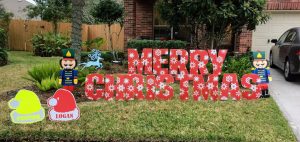 Snowflake Set is IN STOCK & ready for pick up!
"MERRY CHRISTMAS" HOLIDAY LAWN LETTER PHRASE
SOLID RED

Solid Red Sets IN STOCK & ready for pick up! Limited Quantities!
"PEACE ON EARTH" HOLIDAY LAWN LETTER PHRASE
Beautiful 2 Ft. Tall White Letters Make A Very Magical Statement For The Holidays

Outdoor, weatherproof materials. Comes with 2 metal stakes per letter.
PEACE ON EARTH SET IN STOCK & ready for pick up! Limited Quantities!
Personalized Santa Hat Christmas Decor

Personalize the hat with a first name or add a holiday message!
Approximately 16″ tall
~ LIMITED QUANTITIES AVAILABLE ~
Red,  Pink  Teal, Purple, Lime Green & Christmas Green Hats Available
$35 ea. –  2/$65 – 3/$85 – 4/$100

RED SANTA HATS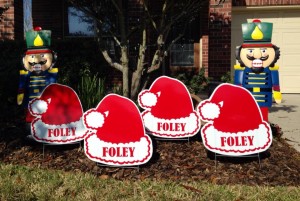 Pink Santa Hat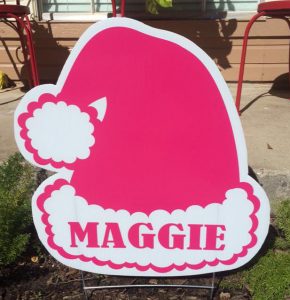 Teal Santa Hat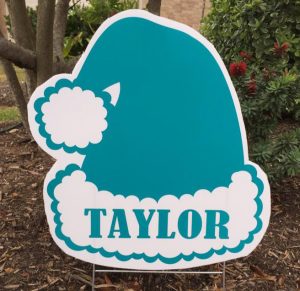 Giant Monogram Christmas Ornament Decor
Choose between Chevron or Quatrefoil Christmas Decor
Red, Green, Silver, Gold, Pink (bow not included)
$35 ea. – 2/$65 – 3/$80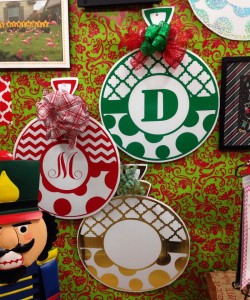 Green Quatrefoil & Red Chevron Shown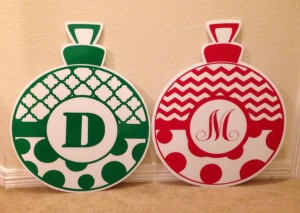 Sparkly Silver Shown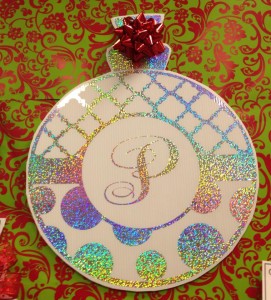 Giant JOY Ornament Set
Great Christmas Decor that can be stored flat & used for many years!
Super cute candy cane ornament design
Red, Green, Pink & other colors available
$60/set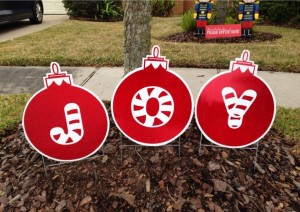 ***Santa Poles-Currently Unavailable***
Great Christmas Decor!
Just like from the Nutcracker Market-except ours come apart for easier storage, are weatherproof!
3 Signs: $50
2 Signs: $45
1 Sign: $40