Reservation & Order Requests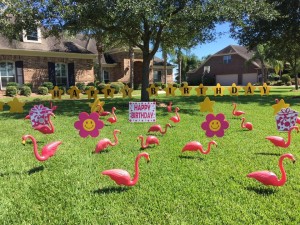 ***Please Note: We ONLY service specific neighborhoods in the Houston, Texas Area!! We do not offer any options for any other cities or states!!***
Would you like to reserve a yard display or simply receive more information, rental quote, details, etc.? Fill out the appropriate form & we will send you all of the information!
Please be sure to read "Our Darn Policies" that state our Terms & Conditions. The biggest issues we have are with missing, damaged & dirty signs. Missing & damaged signs incur a $10 per sign fee. Dirty signs incur a $15 cleaning fee. Our giant signs incur a $100 fee. Personalized 3 ft. signs incur a $40 fee. We re-use personalized signs. Please do not mow or use a weed-eater with our signs in the yard. They really do ruin them. Please find out if a lawn crew is coming & plan accordingly. Signs get dirty with dirt, mud, grass, bird poop, etc. Please take a wet/damp paper towel and wipe it off (check the back side also). We want all of our signs to be in good condition for you & our future clients.
If you have problems with the form, please e-mail us the details at info@flamingos2go.com.
We offer our yard greeting rentals in the greater Houston, Texas area, specifically to League City, Seabrook, Clear Lake Shores, Kemah, Clear Lake, Friendswood, La Porte, Pasadena, Deer Park, Dickinson, Alvin, Pearland, Bellaire, Memorial, Spring Branch, Piney Point Village, Spring, Klein, Tomball, Cypress, parts of Katy & West Houston.