Party Decoration Themes ~ Yard Greetings Sign Rentals
Servicing The Houston, Texas Area!!
We are known as yard display rentals, yard sign rentals, yard decor, yard art rentals, yard decorations, lawn greetings, yard cards, yard greeting, birthday signs, stork yard sign rentals, new baby announcements, birth announcements & almost anything else you can think of!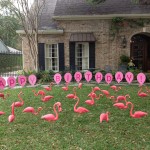 The kitschy pink flamingo started it all! These pink feathered friends are great for celebrating milestone birthdays such as 40th, 50th & 60th birthdays, but are also great for any other occasion.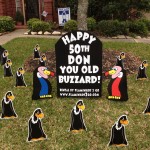 Those milestone birthdays-40th, 50th & 60th birthdays-are a super fun reason to celebrate the honoree's life. The Over The Hill buzzards, tombstones & black clouds are a great way to rub it in to the birthday boy or girl!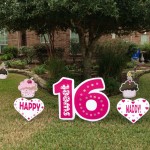 Sweet 16. A very special birthday for young ladies. We have several options available for this unique day. Our "Sweet 16" yard display themes are extremely popular!!!!!
Girlie Pink Birthdays
We have a lot of wonderful yard greeting themes that are great for all ladies-young & "young at heart."
Our birthday cupcakes, pink "Happy Birthday" balloon lawn letters, & everything pink is a wonderful theme for all ladies-young & "young at heart."
Smile!!
Smiley faces are just so cute!! They are a great yard display to use to greet anyone on any birthday, graduation, promotion, get well soon, or just because!!
Warning: Teenager Inside!

Turning 13 is a huge deal! It is the beginning of the teenage years! We have fun "Warning: Teenager Inside!" "Caution" and other fun, yellow & black signs. There are small #13 signs available in black & yellow or pink & black. Mix in yellow smiley faces & stars or cupcakes.
40 (or 50) & Fabulous!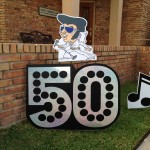 Sports!
Football, Basketball, Soccer, Volleyball, Tennis, Golf, Karate-we carry most sports signs. They can be mixed in with any other theme to make a custom yard! Also available: Signs for University of Texas Longhorns, Texas A&M Aggies, Houston Texans, University of Alabama, OU, OSU.
Fishing
Our fishing theme includes traditional fishing items, along with birthday signs, stars & balloons. Retirement comes with retirement sign.
Cheers & Beers
Cheers & Beers to toast the special birthday, promotion or retirement! Our beer mugs, stars & bright yellow birthday signs are the perfect nice & bright message. Sign reads: Cheers for ___'s Birthday!
Realtors Housewarming & Open House
Teacher Appreciation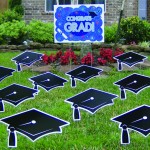 Graduation is a very special milestone. We help celebrate lots of graduations: Pre-School, Kindergarten, Elementary, Middle School, High School, College & even Ph.D. High school graduation display slots fill up fast so get your reservation in early for the best selection. We do our best to match school colors from where you are graduating or to where you are going (example: high school to college). Keepsake signs available, including photo signs.

Valentine's Day is the day to show your sweetie how much you love them!

Mom deserves the very best. Give her a gift that will make her cry tears of joy. Happy Mother's Day.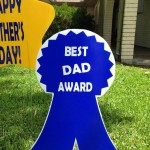 Honor the special guy in your life! Dad, husband, grandfather! We have several great themes that will make them feel super loved!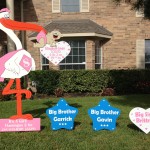 Super Storks are a great big yard decoration to celebrate the birth of a new baby! Super Storks stand 7 ft tall. Big brother & big sister signs also available.
 Baby Shower Storks & Gender Reveal theme also available…..
 Lawn Letter Sets

Our lawn letter sets spell out wonderful messages & make a huge WOW statement!
Full Yard Display Themes List Include:
Anniversary Hearts
Bridal/Wedding
Beers & Cheers
"40" and Fabulous (50 also available)
Football
Golf Outing
Baseball
Soccer
Basketball
Volleyball
Tennis
Balloons
You Rock
Stars

Bright & Cheery Happy Birthday

Girly Birthday (hot pink, purple, etc.)

Princess

Flamingos

Buzzards

Cupcakes

Tatas

S

weet 16
Smiley Faces
Storks/New Baby & Baby Shower
Teacher Appreciation
Military Homecoming
Welcome Home
Realtor Welcome Home/Open House
Graduation Smiley Faces
Graduation Owls
Graduation Smart Cookie
Graduation Stars
Big "50"
Big "1"
Big "16"
Big "18"
Buy Our Signs!
The other fun part of what we do is create custom decorations & signs for you to purchase. Many signs are available for purchase. We also receive custom requests & try to accommodate these special requests as much as possible.
 We offer keepsake signs for most rentals.