September 7, 2017
Hi wonderful people! I want to take a minute to just let everyone know what we are doing here at Flamingos 2 Go. Our families have all been spared the physical property devastation, and we count our blessings so much. Kristi, Brandice, Meggan, myself & all of our husbands have been giving back to our neighbors, strangers & anyone else we can help by cleaning up homes, giving rides to wherever anyone needs to go, doing laundry, cooking, distributing food & drinks, donating lots & lots of supplies, feeding first responders & going community to community handing out supplies, taking care of others' kids so they can get some work done, raising $$ to give to specific families in need, trying to support & raise the spirits of our community as a whole. It takes a whole flocking village!!!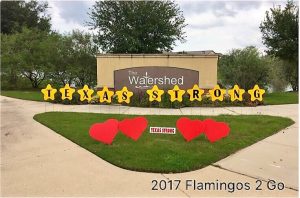 Showing Community Support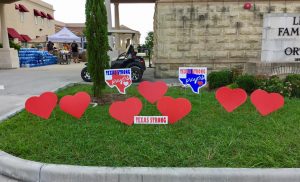 Helping at a fundraiser with League City Family Dentistry & the Clear Falls HS Band
With that said, the fundraising may be small, but the families receiving gift cards are so appreciative. Here's a couple of photos of our yard signs. You can see our awesome Texas Strong signs below in both red & blue. We've sold several, thanks to our best clients & friends a little business could ever have!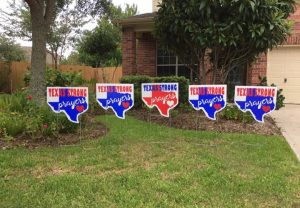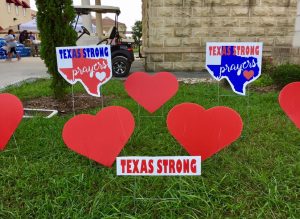 The signs are $30. I am hand making them. 100% of each sale, NOT the net profit, the whole $30, have been going directly into gift cards for specific families. Our supplies on hand are very limited. Once they are gone, I'm afraid I won't be able to offer them anymore.

Unfortunately, the business of celebrating has been put on hold for obvious reasons, and we definitely do not want to be insensitive to the tragedy our community has faced. With celebrations ceasing, Flamingos 2 Go has no orders, which means no income. I believe in transparency, so that is why I am telling you this. My family is definitely already feeling the financial impact of me losing our business income. I know it is small in comparison to losing our homes, but it is amazing how there is a chain reaction.
Survey time! I am assessing whether or not there might be people wanting to decorate for any occasion coming up in the near future. If you would feel compelled to help me learn that information, I would greatly appreciate it. I've created a short SURVEY to collect the information. It is anonymous, unless you choose to fill out your name & email. This will really help me see whether my little business will be able to survive & keep our doors open. You are also welcome to email me with your thoughts. If you know me at all, you know I always value and appreciate your opinions. 
Let's re-build our community & make it even stronger! Thank you, as always, for the tremendous support! We keep going because of YOU.
Cheers to you all!
~Chris Ann