THE SWEETEST SWEET 16 BIRTHDAY!
Isn't Mallory so cute?!!! Happy Sweet 16!!!!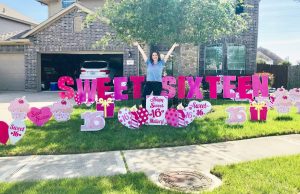 I'm smiling ear-to-ear seeing this adorable young lady, Mallory! She was sooooo happy to get her big Sweet 16 Surprise! Mom gets major rock-star points! Mom booked 3 months in advance to make sure she got exactly what she wanted. The grand plan was to decorate the day before Mallory's birthday while she was at school. Well, guess who woke up sick that same day?! You guessed it! Mom quickly texted me to see if there was a way to make other arrangements. Of course, we do everything we can to still make it work. We arranged for Mom to pick up Mallory & take her out for a while at 4:30pm. You won't believe it….at 3:30 pm, Mom was leaving work & had caught the same awful bug Mallory had! She couldn't take Mallory out-and had to climb straight into bed. After Mom had a chance to rest for a bit, I texted her & asked if there was a chance anyone else, maybe Dad, would take Mallory out for a bit. So, then we pulled Dad into the sneaky planning! They pulled out at 6:50 pm, and I drove up at 6:55pm-and worked for 55 minutes to design her special surprise. They drove up JUST as I was driving away-and Dad's big truck head lights hit the yard as they turned the corner, and Mallory was absolutely SHOCKED & THRILLED at the same time!!! Whew…..
Here's a little photo collage to show off the super cuteness!
Mallory loved her personalized so much that she just had to keep it. And the SWEET SIXTEEN yard phrase is made in two-tone pink colors & each letter is a huge 24″ tall! Wowza!! This is one of my Custom, Signature themes I created & am very proud to say that ONLY Flamingos 2 Go clients are able to rent! You won't find it anywhere else…(and if the others copy, you'll know who they're getting their inspiration from!)!!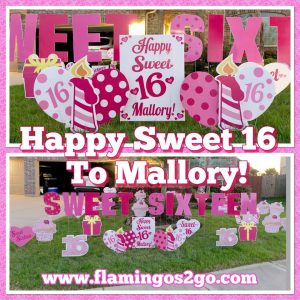 I was honored to get to meet Mallory when I came to pick up her decorations the day after her birthday (2 night rental makes a BIG difference in having enough time to really enjoy the surprise). She was so polite, kind & genuinely grateful for my efforts to make her birthday great! Another big smile on my face!!
My Signature Pink Glitter #16s & Pink Sweet 16 Heart! And in the background, you'll see our Signature Sweet Cupcakes & even more Sweet 16 cuteness!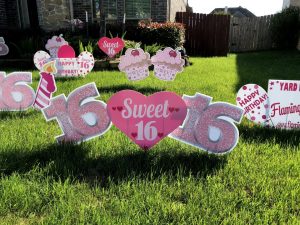 Another close-up of Mallory's adorable keepsake sign. Each custom sign takes about 2 hours to design, cut the vinyl, and then carefully apply to the signboard to make it perfect! And there's plenty of times I re-do the vinyl to make it "just right!" Each one of those little hearts on Mallory's Sweet 16 sign? Yep-I hand applied. I really do put a lot of care & time into making each special occasion as WOW-WORTHY as I can possibly make it!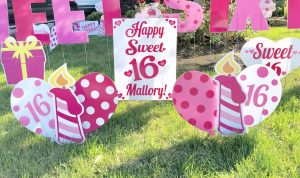 Happy Sweet 16 to Mallory. I'm honored to have
CHEERS!
-Chris Ann
***Like Our Great Themes & Ideas?! Thank You! But Please DO NOT COPY! These are Copyrighted Designs & Many Hours Went Into Creating This Signature Theme. If you are interested in using any of the theme or designs for personal or business use, just email us & let us know what you want to do. Thank you for respecting our creative endeavors!***