Business Resources – Tools of the Trade
SNEAK PEEK!
Here's just a few of the great resources I'm curating for you!
We've got some AMAZZZING resources to share!
Some are for any business. Others are special just for yard card businesses. Check them out below…
Grow Your Social Media Following lightning speed with MiloTree! This isn't just an ordinary pop-up for your website. It's special because it's less obtrusive…and it has more options on where you can direct your visitors. Want them to sign up for your email list? Done. Want them to go to your Instagram? Done. Facebook? Yep. How about Pinterest? You got it. Oooh yeah….got an Etsy store? Link to it. You get my point. MiloTree is your social media BFF.
You can set MiloTree up to only show up X # of times also. It's so customizable that you can tweak it JUST for your business needs!
If you go through my link, you'll get a month trial FREE.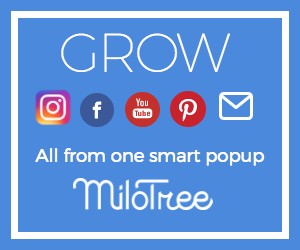 Canva – Your Design Tool Best Friend
Graphics. We all need graphics & visual stimulation for our businesses & for our customers. We used to have to invest a lot of $$ in Adobe programs, CorelDraw & Microsoft Publisher. Those are still awesome. But there's a learning curve. Enter:  Canva. This is such a game-changer! It's so easy to get started & use from the moment you sign up. There's a Free version to get your feet wet. But once you really want to do some great designing, I highly recommend Canva Pro plan because of how much more you can do with it. My favorite part: Being able to re-size my graphics into anything I need! There's also more fabulous graphics background & photos included. I don't have to spend my time hunting down images online & not knowing if they are legit.
I upgraded to  Canva Pro a while back after being on the fence for a long time, thinking Free was plenty. I only wish I had done it sooner.
 A bunch of the graphics on my Facebook page, Instagram account & various advertising are now created with Canva Pro. I've used it for plenty of my kid's projects, too! 
Definitely try out the Free Canva account. If you go through My Canva Link, you'll get a FREE Premium Image as a bonus! (I get one, too for the referral!)

I LOVE using creative fonts & graphics. Canva has a lot of great ones. But sometimes I want something different. I learned about Creative Market.