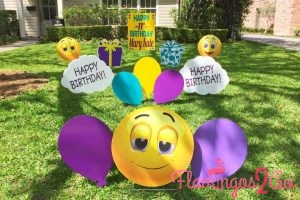 We would love to hear from you! We prefer e-mail because most of the time we are able to respond to it much quicker than phone calls & voice mail. We also accept texts & Facebook messages. We want to be able to ensure the accuracy of the information & order details.
Not sure what to do to order a yard greeting? Check out our START HERE page! Or click on the "Contact" box at the bottom of your screen!
Find Business Opportunity information here!
Have another question? E-mail us at info at flamingos2go.com (the email address is broken up to help fight against the giant amount of spam we receive)
Check us out on social media!
Yard Greetings are the perfect surprise to celebrate any birthday! 40th birthday, 50th birthday, sweet 16, 1st birthday-and any other year! We also specialize in graduation yard greetings, keepsake signs & making your yard look amazing! We have multiple offices in the Greater Houston, TX area serving League City, Clear Lake, Seabrook, Friendswood, La Porte, Pasadena, portions of Pearland, Cypress, Tomball, Memorial, Jersey Village, Bear Creek, Fairfield & parts of Spring (not past I-45), Sugar Land, Rosenberg, Richmond, Katy, Magnolia & West Houston.
*UPDATE* As of 1/1/18 we are temporarily not servicing West/Northwest/Southwest Houston due to staffing changes. We no longer have staff in those areas. We will do our best to refer you to another company in your area.
Check out our Locations Directory to learn more about other areas with a Flamingos 2 Go affiliate!