Every celebration revolves around a four letter word… FOOD!!
Now it's time for some Awesome Appetizers!
Courtesy of the inspirational
Lasagna Cupcakes
Yes you read correctly!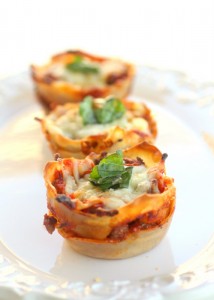 What a great way to serve lasagna without all of the mess of a traditional lasagna tray. Perfect bite-size portions. Is your mouth watering yet?
 Individual 7-Layer Dip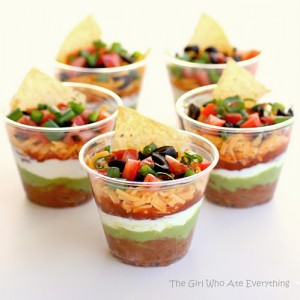 Get ready to make the perfect party size appetizer!! How ingenious to take the ingredients & make lots of small cups for everyone to enjoy!
Makes about 8 individual dips
1 (16 ounce) can refried beans
1 (1 ounce) package taco seasoning
1 (8 ounce) container sour cream
1 cup shredded cheddar or Mexican blend cheese
1/2 bunch of green onions, sliced
1 (2.25 ounce) can of sliced olives, drained
Note: All measurements are approximate. Depending on whether you want thicker or thinner layers you will need more or less.
Instructions:
In a small bowl mix taco seasoning with refried beans. Some people prefer to mix their taco seasoning with the sour cream layer but I wanted a bright white layer so I did it with the beans.
Here's how the layers are assembled:
Layer 1: beans and taco seasoning
Layer 4: salsa or pico de gallo
Layer 7: green onions and olives
In each plastic glass, layer about 2 Tablespoons of the beans, followed by 2 Tablespoons of sour cream, 2 Tablespoons of guacamole, 2 Tablespoons of salsa or pico de gallo, and 2 Tablespoons of cheese. Make sure you drain your salsa or pico to get the excess liquid out before you pour it on. Then top with about 1-2 teaspoons of tomatoes, olives, and green onion (If making ahead of time, wait to add these toppings until shortly before serving).
Garnish with one tortilla chip. Store in the refrigerator until serving and serve with chips. Makes around 8 individual dips.
Just like the lasagna cupcakes, but Mexican style! Here in Texas, Mexican food is a staple!!
Wonton wrappers make for perfectly sized pasta squares that can be layered in muffin tins with taco meat, beans, cheese, and crushed chips.
Seriously yummy, cute, and super fast.
Caprese on a Stick
Great, easy ingredients…but add them on a tiny stick & they're even cuter!
small fresh mozzarella balls
Instructions:
Place one cherry tomato, a basil leave (or half a leaf if it is large), and a mozzarella ball on each toothpick. Drizzle with balsamic vinegar if desired and sprinkle with salt and pepper.
Watermelon Salsa…..Mmmmmmm!!!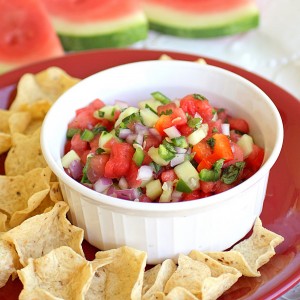 Here's a refreshing twist to regular salsa. Were in full blown watermelon season now and this watermelon salsa is a great combination of sweet and spicy.
Ingredients
2 cups finely chopped watermelon, seeds removed

1/2 cup finely chopped cucumber, peeled and seeded

1/4 cup finely chopped red onion

1/4 cup finely chopped red bell pepper

1/2 to 1 whole jalapeno pepper, seeded and diced finely

1/4 cup finely chopped fresh cilantro

1 Tablespoon finely chopped fresh basil

2 Tablespoons honey

2 teaspoons lime juice

tortilla chips for dipping
Directions
Combine watermelon, cucumber, onion, peppers, cilantro, and basil in a large bowl. Add honey and lime juice and stir to coat.

Chill for at least half an hour in the refrigerator. Serve with tortilla chips.

Watermelon has a lot of liquid naturally in it. Before serving pour out the excess liquid so your salsa isn't too runny.
Mexican Stuffed Pasta
 Mexican meets Italian? Hmmmmm…I think it's a winner!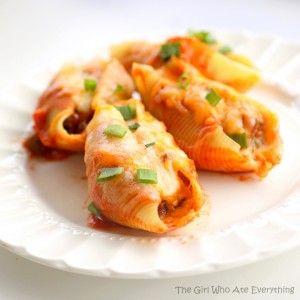 Mexican Stuffed Shells
Ingredients:
1 pound ground beef (or ground turkey)
1 package low-sodium taco seasoning
4 ounces cream cheese
20 jumbo pasta shells
1 1/2 cups salsa
1 cup taco sauce
1 cup cheddar cheese
1 cup Monterrey jack cheese
For toppings:
Sour cream
Instructions:
Preheat oven to 350°.
In a pan brown the ground beef; add taco seasoning and prepare according to package directions. Add cream cheese, cover and simmer until cheese is melted. Stir together and mix well. Set aside and cool completely.
While ground beef is cooking, cook the pasta shells according to package directions; drain. Set shells out individually on cutting board or baking sheet so that they don't stick together.
Pour salsa on bottom of a 9×13 baking dish. Stuff each shell with 1-2 tablespoons of the meat mixture. Place shells in 9×13 pan open side up. Evenly cover shells with taco sauce. Cover dish with foil and bake for 30 minutes.
After 30 minutes, add shredded cheese and bake for 10-15 more minutes with the foil removed. Top with green onions or olives if desired. Serve with sour cream and/or more salsa.
Roast Beef & Gorgonzola Hoagie-A Hearty Bite!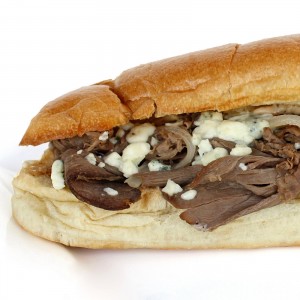 Doesn't this make your mouth water?! Cut it into quarters & your guests will be SOOOO happy that they get to have any!
Feeding a football team? You might have to give them whole ones.
Roast Beef and Gorgonzola Hoagies
Ingredients:
2 cans (11 oz each) Pillsbury® refrigerated crusty French loaf (I just bought fresh hoagies from my bakery)
1 medium onion, thinly sliced (about 1 cup)
1 1/2 lb cooked roast beef (from deli), thinly sliced
1 cup mayonnaise or salad dressing
2 chipotle chiles in adobo sauce (from 7-oz can), diced
1 tablespoon lime juice
1/2 teaspoon pepper
1 cup crumbled Gorgonzola cheese (4 oz)
Instructions:
1. Heat oven to 350°F. Spray large cookie sheet with cooking spray. Place both loaves of dough, seam sides down and 3 inches apart, on large cookie sheet. Using sharp knife, cut 4 or 5 diagonal slashes (1/2 inch deep) on top of each loaf. Bake 22 to 26 minutes or until golden brown.
2. Meanwhile, in 12-inch skillet, heat oil and butter over medium heat (I added less butter and oil here). Add onion; cook 15 to 18 minutes, stirring occasionally, until tender. Stir in broth and beef; cook 4 minutes. (I like to break up the beef here so it's not in big slices of beef) Remove from heat.
3. In small bowl, mix mayonnaise, chipotle chiles, lime juice and pepper. (Save your extra chipotle chilies for a recipe later this week!)
4. When bread is done baking, set oven control to broil. Cut each loaf in half horizontally, cutting to but not completely through one long side; place cut sides up on cookie sheet. Spread 1/2 cup mayonnaise mixture over cut sides of each loaf. Using slotted spoon, remove beef and onion from broth mixture, reserving broth mixture. Top each loaf with half of the beef and onion; top with cheese.
5. Broil with tops 6 inches from heat 2 to 3 minutes or until bread is lightly toasted. Cut each sandwich into 3 pieces. If desired, skim fat from broth mixture and serve broth with sandwiches for dipping.
6. Makes 6 sandwiches.
This will make the WOW impression, but will wow you on how quick it is to make!!
5 min
20 min
4 wraps
Ingredients
1 Tablespoon extra-virgin olive oil

2 cups thinly sliced white onions

4 cups (16 ounces) sliced mushrooms

2 cups (8 ounces) rotisserie chicken, sliced
1 cup marsala wine

8 slices (8 ounces) Provolone cheese

4 white or whole wheat tortillas
Directions
1Add olive oil to a large skillet over medium heat. Add onions and mushrooms and cook for 10 minutes or until vegetables are soft.

2Add marsala wine and sliced chicken and cook a couple minutes or until wine reduces.

3Place slices of cheese over chicken mixture and let sit for one minute or until melted.

4Warm tortillas in microwave and then place 1/4 of the chicken mixture down the middle of the wrap and roll like a burrito. Slice in half and enjoy!
Grilled Pineapple and Chicken Quesadillas
What a fabulous twist on the traditional quesadilla!!! Feels like we're mixing Mexican with Hawaii now!!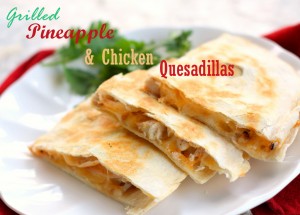 Ingredients:
8 whole flour tortillas
butter
2 cups grilled pineapple, sliced
3 skinless, boneless chicken breasts pounded thin or butterflied
 salt and pepper, to taste
3 cups shredded Monterey Jack cheese
3 tablespoons spicy barbecue sauce
(optional) cilantro and jalapenos
Instructions:
To grill pineapple: Cut wedges, stick on skewers, and grill over low heat either on a grill, grill pan, or even a skillet. Cut into slices.
Sprinkle chicken with salt and pepper and Cajun spice if you want some heat. Spray grill with cooking spray and grill on both sides until done, brushing with barbecue sauce after it's finished. Set aside and slice into very thin slices.
Warm pan over medium heat and put butter in the pan enough to coat. Slightly warm and toast tortillas on both sides, then remove from griddle and set aside.
To assemble, sprinkle four browned tortillas with grated Monterey Jack and arrange chicken slices and pineapple slices evenly over the surface. If desired, add sliced jalapenos and cilantro here. Drizzle extra barbecue sauce over the top. Add second browned tortilla on top of each one. (You'll have four complete quesadillas at this point.)
Add quesadillas back to skillet to warm, until cheese is melted. Cut each quesadilla into six wedges. Serve with sour cream, pico de gallo, and lime wedges.
Buffalo Chicken Pasta Salad
Sounds like an interesting pair!
Ingredients:
8 ounces small uncooked pasta (such as mezze penne)
1/2 cup Frank's hot sauce
1/2 cup olive oil
1 tablespoon lemon juice
1/4 teaspoon garlic powder
1/4 teaspoon onion powder
1/4 teaspoon celery salt
2 cups precooked chicken or rotisserie chicken, chopped
1 1/2 cups crumbled blue cheese
1 cup carrots, chopped
1 cup celery, chopped
(optional) 1/2 cup red onion, chopped
Instructions:
1. Cook pasta according to package directions to al dente in adequately salted water. Drain and rinse thoroughly with cold water (If serving hot don't use cold water).
2. While pasta is cooking, whisk together hot sauce, oil, lemon juice, garlic powder, onion powder, and celery salt in small bowl until well combined.
3. Place the pasta in large mixing bowl. Stir in chicken, blue cheese, carrots, celery, and onion (optional). Slowly mix in desired amount of dressing. You may not want to use all of the dressing.
4. Can be served cold or hot. If serving cold, refrigerate until ready to serve. Makes 6-8 Servings.
Notes: If you would like it to be spicier, use more hot sauce and less olive oil. If the pasta salad seems dry after being in the refrigerator, add a little olive oil or hot sauce.