10.1.12
October is National Breast Cancer Awareness Month.
Our Pink Flamingos want to help with this awesome cause!!
Welcome to our

"Think Pink" Program!!!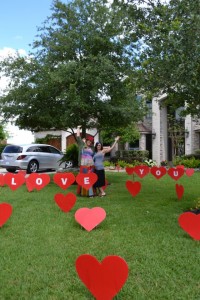 Do you know someone who currently is a current Breast Cancer Warrior, currently undergoing treatment, or a Super Survivor?
We want to honor these special women. Our "Think Pink" Program surprises them with a fun "Think Pink" yard display that will make them smile. Nominate this special person to win a Breast Cancer "Think Pink" yard display today, so we can start flocking them with love!! It includes breast cancer related signs & the super friendly pink flamingos (or one of our other fun themes)! The best part is it is FREE. We do ask that someone pick up, set up the display & return it back to us in League City. We would also like a picture of the display-preferably with the honoree, but without them is okay.

We will try to have two winners per week, so please get your entries in ASAP! Check out some of our photos below & find out what else you can do to help. 
Send A Yard Display & Help "Think Pink" In Other Ways:
We will donate 20% of our net profits for each display that is rented by a "Think Pink" supporter. Think of who has birthdays, anniversaries this month & flock them for a cure!
Send a Flock "JUST BECAUSE!"
Do you know anyone else who would want to support our cause, or you would like to send a smile to?  "Think Pink!!" You can flock them with our flamingos, red hearts, etc. just because! Everyone enjoys having their friends & family surprise them with something special. Maybe they will turn around and send the flock to another friend. 🙂
Some Of Our Especially Fun Themes for "Think Pink:"
Breast Cancer Related Signs – Pink Ribbons, Faith, Hope, Cure signs mixed with:

Pink Flamingos – Flocks of Love

Ta-tas – We "Support" You

"We Love You" Red Hearts

Princess Crowns

Smiley Faces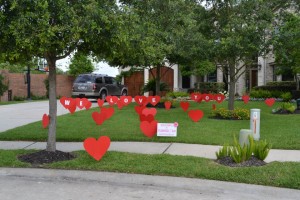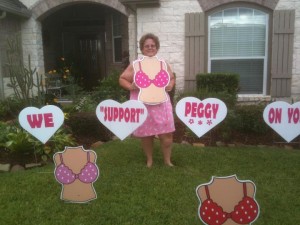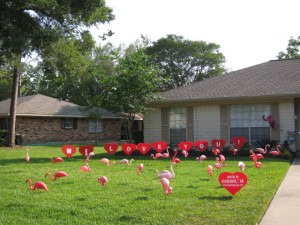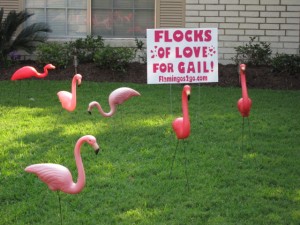 Please spread the word! Please use the "Share" buttons below to tell all of your friends & family! Let's see how many Warriors & Super Survivors we can make smile this month!!
Chris Ann