***PARDON OUR DUST AS WE UPDATE OUR AWESOME GRAD PAGE!***
GRADUATION
Graduation Yard Greeting Signs in Houston!
Our Graduation decorations are THE perfect way to kick off & celebrate the big celebration!
We have multiple Graduation packages & themes to choose from. Wondering if we service your area? Check out our Locations Directory. If we don't, be sure to ask us about buying your own set! We will ship!
See our Photo Gallery here!
PACKAGES:
Include a one day/night rental, delivery, set up, pick up & cleaning
Most Themes Will Include A Combination Made From The Following: Graduation Caps, Congratulatory Signs, Stars, Starbursts, Balloon Signs, Graduation Signs. Special Characters (grad smileys, smart cookies) can be added to most of the packages.
Standard Package Rental: Includes 20-25 specialty pieces, delivery, set up, pick up & cleaning
Deluxe Package Rental: Add on a set of our awesome lawn letters like "Congrats Grad" or "Way To Go!" (Add on $20)
Deluxe + Personalized Lawn Letters: Use the grad's name on the lawn letters! (Add on $3 per letter)
Large "2017" Lawn Numbers + Mini Package Rental
Small Package Rental: Only available in select neighborhoods & limited quantities/inventory available
Keepsake Sign: Add On to any order or purchase without a rental! (Pricing: $30-$75 WITH a rental depending on size & design)
Buy Your Own: Order a grad set with your own colors! Shipping available in the continental U.S. (Pricing varies)
Things To Know & Frequently Asked Questions:
Are we buying the signs?

Our awesome decorations are a rental (unless you PURCHASE a designated package for sale)-someone will pick up the signs

How long is the rental?

1 Day/Night Rental (additional time may be added to the order)
Many times, you will prefer us to deliver the day BEFORE graduation, and pick up after your senior has left for commencement. The grad will typically not see the signs again that night anyway, and will sleep much of the next day. If you're having a grad party, we will work with you to make sure we deliver before the party start time.

Delivery Time Window:

During the day-typically either in the AM or Lunch time (we work with you to make it the right time)-Occasional early evening (By 8:00pm) deliveries are available in limited neighborhoods
We attempt to deliver while many seniors are at Graduation Rehearsal when applicable.

Are the signs waterproof?

Yes! They are made from outdoor plastic & vinyl, and do just fine in the rain.

Does someone need to be home when you deliver?

No! We have access to your front yard & our elves come in & work their decorating magic!

Do we need to take down the signs?

Please enjoy the decor & take plenty of photos. But we request you do not move the signs.

What if we want to mow the yard or our lawn service comes?

Part of the rental agreement requests that no lawn service occur during the rental period. Please make sure there's no lawn mowing or weed eating. Lawn equipment WILL damage the signs, even if it is just grass being by accidentally tossed onto the signs (dried grass stains & does not come off our signs easily).

What if the grad wants to keep some signs, or is playing with them, and by accidentally steps on one & damages it?

Per our Terms & Conditions, the client is responsible for any missing or damaged decorations.

When is payment due? Can we pay at delivery?

Because of the nature of our service, we require payment prior to adding you as a confirmed order to our calendar. There are specific graduation weekends that we will sell out, and it is impossible to know if someone is going to change their mind last minute.
Process:

Decide on rental date
Choose your desired colors
Pick your theme & special characters
Select the style of package (deluxe, standard, etc., add on keepsake signs)
Fill out the Graduation Order Form (this is an inquiry and is not a confirmed order)
We will email you outlining the details, give you the exact pricing. You'll email us back letting us know everything is good, or any changes.
You pay us! We send you an invoice to pay securely online with a debit or credit card
We deliver & decorate on the designated date & time window
You take photos & enjoy graduation
We come back on the designated date & time window to pick up
***DELUXE GRAD SMILEY PACKAGE*** – Most Popular!


"Congrats Grad" Yellow Star Lawn Letters
Black Graduation Caps
Congratulatory Signs
This is the perfect set up for any yard-your own home, church, school, for a group, awards night, scholarship ceremony, etc.
To order the Deluxe Grad Smiley Theme, select the Deluxe Package, then choose "Grad Smileys" under Special Character Theme.
PERSONALIZED DELUXE PACKAGE: YELLOW STAR LAWN LETTERS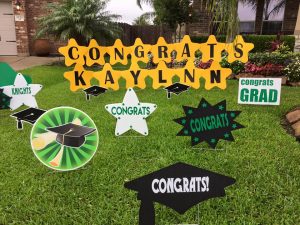 Shown: Yellow Personalized Stars "Kaylnn" — Add on $3 per letter
Also Shown:
 Clear Falls Knights
Green & Black Congratulatory Signs
TROPICAL GRAD PACKAGE: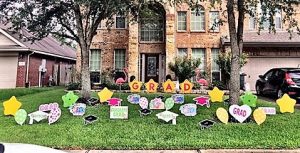 Color Palette: Pink, Yellow, Lime Green, Purple
"GRAD" Yellow & Pink Star Lawn Letters
Stars
Balloons
Grad Caps
Congratulatory Signs
GRAD OWL PACKAGE:
Hoot Hoot Hooray! It's time to celebrate your grad!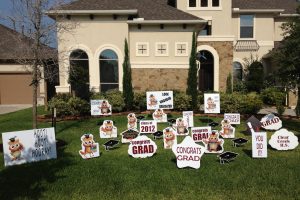 STANDARD PACKAGE (20-25 pieces)
6-8 Graduation "Hoot Hoot" Owls
Black Grad Caps
Congratulatory Signs
Optional School Colors or general colors available
Shown: Non-Personalized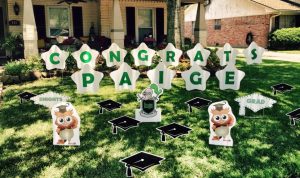 PERSONALIZED DELUXE PACKAGE (Adds on Personalized Lawn Letters)
Your Choice of Lawn Letters Sets with Grad's Name Added
Shown: White with Green Lettering with Clear Falls Knights theme
SMART COOKIE PACKAGE
Adorable "Smart" chocolate chip cookies with lots of personality! Nerd Cookie, Party Cookie & Happy Smart Cookies!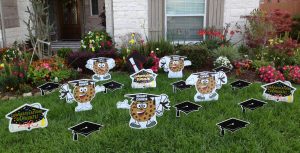 Standard Package
5-7 Smart Cookies
Black Grad Caps
Congratulatory Signs
Optional: Add in school colors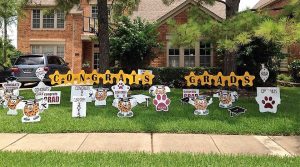 Deluxe Package:
Shown: "Congrats" Yellow Star Lawn Letters
Shown: Clear Creek HS Theme with Maroon, White, Black
PRINCESS PACKAGE:
Make your grad feel like a princess! Pink, Black, White & Bling colors on graduation caps, grad signs, grad hearts mixed in with our adorable Princess Crowns.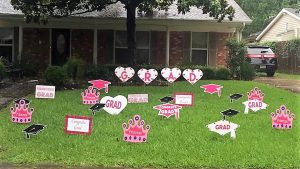 Shown: Deluxe Package
Color Palette: Pink, Black, White, Bling
"GRAD" White & Pink Heart Lawn Letters
Princess Crowns
Matching Congratulatory Signs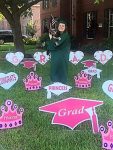 MUSIC GRAD PACKAGE
Add In Various Music Theme Signs. Perfect for the band, orchestra or choir grad!
TRADITIONAL GRAD PACKAGE
Variety of colors comprised of graduation themed signs.
PERSONALIZED, KEEPSAKE SIGNS!
Lots of choices!
Star shape or rectangle with your color choice of lettering (green, maroon, blue, red, purple, orange). Buy one by itself: $35. Buy one as part of your rental order: $30, which includes delivery/set up with the yard greeting!
SHSU Grad Sign

SCHOOL COLORS AVAILABLE:
Green
Blue
Red
Maroon/White
Black
Purple
Orange
Yellow
Teal/Turquoise
College Signs:
ADD ON YOUR FAVORITE COLLEGE!

University of Texas (UT) Longhorns
Texas A&M Aggies
Louisiana State University (LSU) Tigers
University of Oklahoma (OU)
Oklahoma State University
University of Houston
University of Houston, Clear Lake
Rice University
I have used Flamingos 2 Go for 16 years. Every time, I am so pleased with how great it looks, the fantastic customer service, and the smiles it brings to so many! We've had quite a few birthdays, first days of school, senior year, graduation & eagle scout special occasions. Every single one of them has been so special because of Flamingos 2 Go. There are some competitors now, but I can promise you they don't hold a candle to what you will get with Flamingos 2 Go and their quality of care, customer service & ethics. Definitely worth every penny!
-Lisa E.