Seeking Awesome Sales Assistant To Join The Team!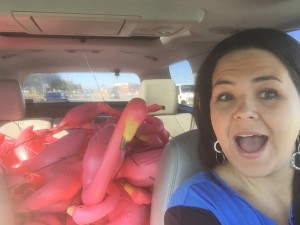 We are about to start our craziest 5 weeks of the year! May-early June has always been when we are blessed to be swamped! Lots of birthdays, Mother's Day, and tons of graduations-college & high school!
We are seeking out a very special Sales Assistant to help the team with various activities needed for this short time period. Information below. This would be a great position for a college marketing/communications student.
Temporary, seasonal help starting ASAP. Independent contractor only.
Lots of attributes & qualities needed:
Ethical/Integrity
Flexible with time
Reliable
Customer service driven
Creative
Organized
Independent thinker
Self motivator
Detail-oriented
Sense of urgency in completing tasks
Be able to physically lift 25+ pounds & not exert (harm) yourself
Not afraid to sweat! Work outside in the heat and rain
Computer savvy (and must have your own)
Smartphone (iPhone preferred)
Sales & light bookkeeping experience super helpful
Excellent spelling & grammar, professional writing capabilities
Can listen & take direction (without getting feelings hurt)
Very casual- T-shirt & shorts
Must commit to working through June 8 (extra work time needed May 23-June 6)
Lives in the South Shore/Tuscan Lakes/Marbella/The Meadows areas (must be close so it is convenient for some work)
Can start immediately
Independent Contractor (we do not pay your taxes or offer benefits)
About the position:
The Sales Assistant is going to be the glue that helps keep everything running super smoothly.
Very part-time – Somewhat on-call – project based – estimate 5-7 hours/week (each day there is at least 30 minutes of work, with some days being much longer)
Works from home most of the time. Works at my home office sometimes. Works at client homes occasionally.
Specific task responsibilities:
Responding to client inquiries immediately – most of our sales leads come from several online sources & we receive notifications through our smartphones. Need help responding & helping our potential clients with their needs. This includes retrieving basic information from the client, getting the necessary rental quote & theme options from myself, and then writing up the responses professionally. Some client phone calls. Natural upselling experience is great plus.
Adding client inquiries to event calendar & orders list (familiarity with Excel helpful)
Creating detailed invoices
Making posts with photos on social media, blog
Cleaning off signs that come in dirty
Help preparing orders (counting, sorting signs)
Updating client contact management
Be forward thinking. Jumps in to help with any task. Does not wait to be told to do each project.
Back-Up Delivery Assistant: We have delivery assistants. Sometimes we need another person to help out. Deliver & set up yard designs. Local area within 30 minute distance. Most deliveries are done during school hours; however, there could be times that you are asked to do a yard at other times.
Help with any task!! We are a team!
–Client Inquiries–They can happen at any time. We need someone who can help respond at any time. We all chip in to get back with each client as soon as possible. We strive for immediate responses (to provide excellent customer service). Most of the time, this is all done from our iPhones. It generally takes about 2 minutes to write up & send the initial response. Are you willing to help with these? This is what we describe as "on-call." We never know when clients will contact us.
–Pay–Commensurate with experience & how flexible you are. Minimum $10/hr. (This is negotiable, based on experience. Bonus also available based on performance. We pay by project (such as creating invoices is a project, updating client contact management is a project, making a delivery is a project, etc.). The busier you are for the week with projects, the more $$$. Independent Contractor means we are not responsible for your taxes & there are no benefits. You will receive a 1099 form for tax reporting.
Wishful Capabilities (but not required):
-Graphic design (Adobe Illustrator ideal) & WordPress
Design various ads/flyers, add content to WordPress website on blog, photo gallery, pages.
Interested? To inquire, please copy & paste the above description into an email & elaborate on all of your similar skills & abilities. Please include background & address.  info at flamingos 2 go.com (separated email address so robots don't pick it up)  If you do not want to send me your address, this is a pretty good indicator that you are probably not the right fit for our team.
Thank You! I look forward to hearing from some awesome people!!
Cheers!
-Chris Ann