SWEET 16!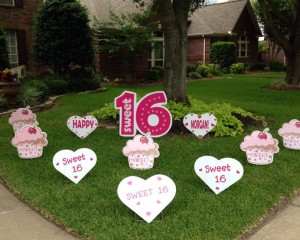 I have to just say, I LOVE our Sweet 16 theme! This yard display is always such a hit! Nobody ever thinks about decorating outside for a Sweet 16…except for my awesome clients!!!!!
This is the most popular way I set up the Sweet 16 decorations: The big "Sweet 16" sign with the two hearts flanking it with "Happy" and the girl's name heart. You can keep the girl heart or just return it back & I re-use it. The pink "Sweet" cupcakes & the white & pink hearts are just the perfect combination to make any Sweet 16 birthday extra special.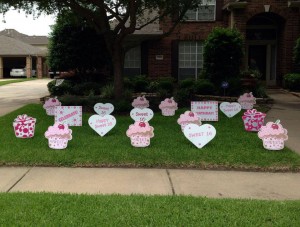 This particular honoree had a split yard, so divided the Sweet 16 decorations to suit both sides perfectly. This side had more cupcakes & hearts, but also a couple of "Happy Birthday" signs and pink presents.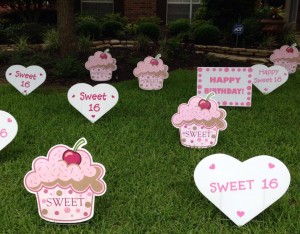 There are a few other options available with the Sweet 16 theme.
"Happy Birthday" Pink Balloon Lawn Letters
Black/Silver/Pink "Blingy" Stars & Balloons
Big 4 Ft. Giant Pink Cupcake
Because of how unique the Sweet 16 yard decorations are, it is very popular, and rents out a lot! It's one our top 3 renters!! Love that!!!!!! The girls are always so happy-and sometimes there's a few tears-but one thing is for certain…these girls have an incredibly happy memory of their Sweet 16 birthday!
If you've got a girl in your family about to turn 16, I can guarantee this is one of the most special presents you can give (besides a new car, of course). Reserve it as early as possible, though. There's only one set available. You would be surprised how these birthdays overlap with others.
Please feel free to share this on your social media page-Facebook, Instagram, pin it on Pinterest (just tag Flamingos 2 Go). It will make more people smile!
Cheers!
-Chris Ann