It's April 15…Tax Day! For some, they are thrilled with Tax Day…for others, not so much! We want to help you save & still have fun, so enjoy our Tax Day Sale!
 April 15 Only! Order Your Display Today &
Receive $20 Off + A Free Upgrade That Includes A Set of Lawn Letters ($20 value)! You will also be entered into a GIVEAWAY for a FREE Mother's Day Display!!!
*Good for displays through May 31, 2013. Full service delivery area is limited to League City & the Bay Area. Limited # of displays are available each day based on inventory available.
What this means:
You want to book a display for an occasion that is between now & May 31. Submit your reservation on April 15 & make payment.
What you get: Your standard display of 30-40 items (depending on theme) + a set of our cool lawn letters! Includes DIY & Full Service! Wow!
Some Yard Display Examples: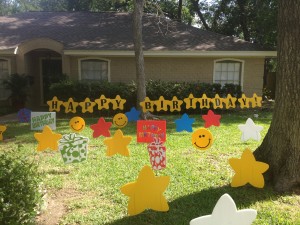 Smileys, Stars & Birthday signs (40 signs total) with our "Happy Birthday" Star Lawn Letters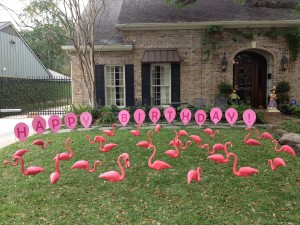 40 Classic Pink Flamingos with our sweet "Happy Birthday" Pink Balloon Lawn Letters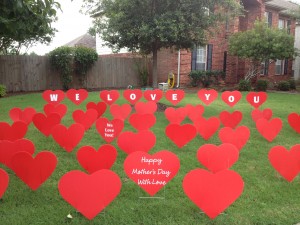 40 Beautiful red hearts with "We Love You" Red Heart Lawn Letters

30 Cheery Smileys with our "Our Teachers Are #1" Yellow Star Lawn Letters
Price Examples:
DIY Package:
$70 for standard package + $20 for lawn letters=$90
Tax Day Sale: $50 PLUS your lawn letters! WOW
League City Full Service Deliveries:
Standard package: $100 + $20 for lawn letters=$120
Tax Day Sale: $80 PLUS your lawn letters! Super WOWOWOW!!!
April-May are super busy months full of tons of birthdays, Mother's Day & Teacher Appreciation.  May is my very busiest month of the year, so I will fill up very fast. Get in on this awesome offer TODAY!!!
I hope you will take a moment to help out your friends so they can take advantage of this Tax Day Sale today! Please post on your Facebook, Twitter or email to your favorite pals.
Thanks for supporting my little ol' flocking business!
Cheers!
Chris Ann